Mobile crane • Excavator 777 dump truck • Dump truck(ADT - Centurion Central
Wednesday, 19 September 2018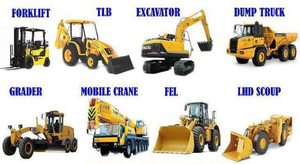 Item details
City:
Centurion Central, Gauteng
Contacts

patrick

0717974385
Item description
OPERATORS TRAINING AND PROJECTS call or whatsapp 0717974385
we offer training for different machines.
Theory and practicals according to the duration of the course. We offer our students free
Accommodation but they provide themselves with food and must come with a blanket.
Our training ground is in Port Elizabeth for the big machines like the grader, l.h.d scoop, mobile crane
Tower crane, overhead crane, bulldozer, 777 dump truck. The other machines like the reach starker
excavator, Tlb, front end loader, dump truck, reach truck; bobcat and forklift are in Uitenhage.
The school van transports them to the training ground and takes the back to the accommodation.
Transport and accommodation for them. TEL: 0717974385
• Mobile crane
• Excavator
• 777 dump truck
• Dump truck(ADT
• Bulldozer
• Grader
• Fronted loader
• TLB
• Tower crane
• Overhead crane
• Reach starker
• Reach truck
• Forklift
• Drill rig 2weeks
The requirements are identity card book or passport, Asylum
Two colored photos. If you have a license a photo copy of it, for the
Machines that require it. Please give us a cal on the numbers above
WE ISSUE THE CERTIFICATE AND LICENSE AFTER TRAINING AND JOB ASSISTANCE,071717974385
WE ALSO TRAINING STUDENTS WHO DON'T KNOW HOW TO READ OR WRITE, WE OPERATE THROUGHOUT THE TRAIN TWO OR MORE MACHINES AND GET A FREE FORKLIFT TRAINING OR DISCOUNT.